Tribo To Major: My Best CSGO Picks
Tribo To Major
---
September Results
September is over!
We've had a lot of bets going in and out. Not equally many here on the website as in my spread, but still enough to make a good turn. Unfortunately, the stats for September on the website picks wasn't that great, as seen below…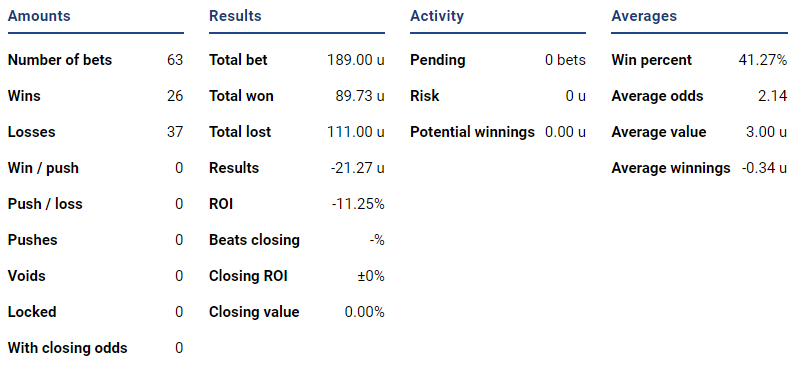 It didn't really go that well did it? Nah, it didn't. We've had some tough and rough bets losing by margins and by teams who made their worst performance in that specific match and we've also been plain wrong in our, I guess, analysis. Sometimes you are and here is where you learn from your mistakes.
I'm confident that we can produce a better result in October. We have a lot of nice, fun and interesting events coming up. I'll talk a bit more about these in some upcoming posts.
Meanwhile our website picks didn't go as planned, the private spread went really well. In fact, this is the second month in a row with a positive return of investment since my break from CSGO that lasted about two months. It feels good right now. Volume is key, at least for me.
I know it's a bad picture, I'm sorry for that, but I hope you can see the information at least.
The results in fine print:
Bets: 173
Wins: 89
Loss: 84
Win rate: 51%
Avg Odds: 2.21
ROI:

+10%

Units:

+51.42
It's some really good stats to be honest and I guess you see what I mean by volume. This is also a key factor when backing my picks. The more picks you get, the more expected return you will receive. I'm a long-term dude, not a quick-buck guy.
I'd recommend you to follow my other channels like my Discord, my Private Spread and my Twitter. This is how, and where, you will be able to receive all my picks.
CSGO Twitter
Discord
Main Spreadsheet(All picks)
New Spreadsheet(Website picks only)
Lets move on to the Tribo To Major CSGO Picks!
---
Tribo To Major CSGO Picks
I'll drop the bets below as they're going up and down as we speak. I caught these Tribo To Major CSGO Picks this night and you might be able to get the same odds, or even better, depending on what bookmaker(s) you're using. I can't guarantee that you'd get the same odds as I did though.
I have picks from two games and one is for the 3rd of October(Saturday) and the other one is for 4th of October(sunday)
October 4th
Imperial – Sharks
Sharks -1.5 to 2.07* at PINNACLE
Sharks -3.5 to 1.81 at PINNACLE
Sharks -3.5 to 1.81 at PINNACLE
*Sharks has gone up quite a bit. I caught the odds at the wrong time unfortunately. The current offer is around 2.20-2.30 which of course is good. Just so you know.
October 3rd
RED Canids – BOOM
BOOM -1.5 to 1.57 at BETHARD
BOOM -5.5 Map 1 to 1.90 at BETHARD
BOOM -5.5 Map 2 to 1.90 at BETHARD
*Please note that the odds may shift from the time of posting
Oh… and just because I didn't post any picks yesterday… I'll throw in some picks from ESL Pro League as well, you know, because I'm nice.
Mousesports – BIG
Mousesports -2.5 Map 1 to 2.30 at PINNACLE
Mousesports ML to 2.23 at PINNACLE
NaVi – Heroic
Heroic -2.5 Map 1 to 2.14 at PINNACLE
---
Let's see how it goes at Tribo To Major!
Don't forget to follow my social medias and my new spreadsheet to have a chance to get all my best CSGO Picks.
CSGO Twitter
Discord
Main Spreadsheet(All picks)
New Spreadsheet(Website picks only)
Make sure you follow these channels to get the latest updates regarding my best CSGO Picks from various tournaments, in this case Tribo To Major, and also to see the stats!
Categories
LATEST BETS
/
NEWS