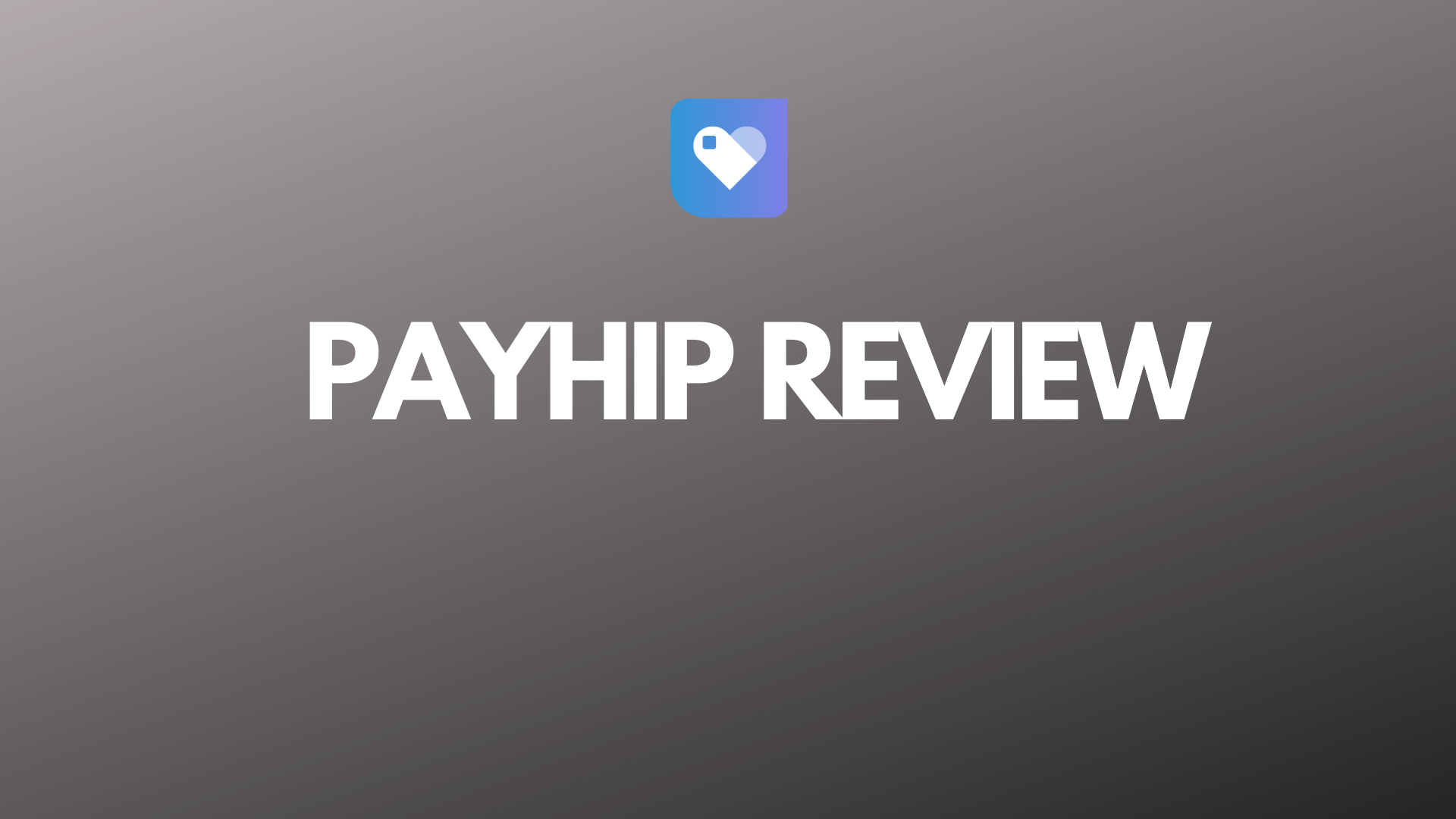 PAYHIP REVIEW: PROBABLY THE BEST PLATFORM TO SELL YOUR DIGITAL PRODUCTS
A detailed
Payhip Review

about probably the best FREE digital platform in the business!
---
Introduction
Have you ever heard about Payhip?
I use it to sell my book(s)!
But maybe you have… maybe you haven't…
Just let me tell you that it's probably best if you sit back, relax and enjoy the detailed ride you're about to hop-on. Be aware.
You see…
Payhip is probably the best and most interesting e-commerce platform that is completely FREE to use!
Yes… it's completely free to use!
Payhip is a platform where you as a creator, writer, designer, coder, musician or whatever you may be, easily can sign up, create your own store and sell your products – all in a matter of minutes!
The best part?
You get paid instantly!
Continue reading for this full Payhip review!
---
(1)
What Is Payhip?
It's pretty easy to explain what Payhip is and can do for you.
Just see below:
Payhip is an affordable solution to creators of all sorts and kinds.
The platform is a completely hassle-free experience and it's super easy to sign up, create a store and start selling immediately. They want to make it easy for creators to reach a new audience and at the same time manage their current follower base.
Payhip also lets you sell memberships and you can even have your own affiliate program where your customers can sell your products for you!
There's endless possibilites with Payhip and you'll find a lot of them in this guide!
Oh yeah, did I mention it was free?
(1.2)

Wait… Is Payhip Really Free?
Yes, Payhip is totally free to use!
You don't have to pay a cent in monthly or upfront fees to use their platform.
That doesn't mean that they don't offer a subscription plan, they do.
But you can use Payhip without paying a dime. That's a fact.
The only thing that happens when you get paid is that they take a percentage(cut) on top of the fees from Paypal or Stripe.
Payhip offers PayPal and Stripe as payment services which makes the checkout process very fast and secure for your customers. There's no hassle, no technical problems and no issues what so ever surrounding the checkouts thanks to the Easy-To-Use platform and PayPal and Stripes secure and fast payment systems working together.
Lets take a look at the raw data of fees!
Rates:

Payhip: 5%
Paypal: 2.9% + 0.30$ per sale (some countries have other fees)
Stripe: 2.9% + 0.30$ per sale (some countries have other fees)
That meanst that if you're a free user, you get to keep 92% of your sales on each product!
Compared to Gumroad who takes 3.5% + 0.30$ per sale + 10$ a month for a premium account or 8.5% + 0.30$ per sale for a free account… that's a steal.
Payhip surely keeps their competitors on the edge!
(2)

How Does Payhip Work?
Payhip is, as already stated, a platform that enables anyone to sell their work directly to their customers, fans or followers using just a link. You just have to sign up, upload your product(s), add a price and then sell your products on your own store, your own website or over social media. It's really that simple.
Don't trust me? Here's how it looks in three easy steps!
Step 1
Add your product(s) at your "Add Products" page visible on dashboard, enter a nice title that will sell like Jordan Belfort, choose a sweet price to encourage your customers to think it's a robbery and top it off with a cool cover image to blow their mind.
Step 2
Once you've finished uploading your product and filling out your details, your page will look similar to this, but with your epic cover image. This is also what your customers see that will later on blow their minds.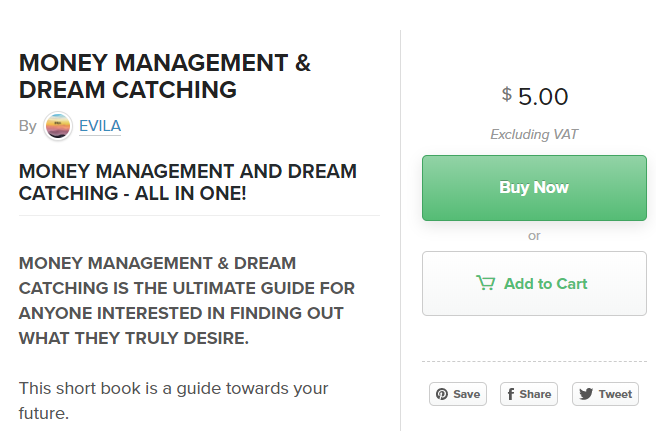 Step 3
Once your customers has purchased your product(s), they will be immediately taken to a download page where they can download and get access to your product(s). No bullshit, no strings attached, nothing.
Payhip handles the storage, the payments and the deliveries of digital products to customers so that their creators can focus on what they do best. Another amazing feature is that Payhip takes their cut directly off the purchase meaning that what you see as the total amount of a single sale is the same amount that you are entitled too.
Payhip also transfers your hard earned money directly to your account after purchase. That means that all your sales, minus the fees, ends up on your PayPal account immediately(almost). This unfortunately doesn't apply to Stripe seeing they have longer transaction periods.
(2.1)

Payhip Subscription Plans
Payhip offers three subscription plans.
1. Free Plan:
Price: Free
Transaction Fee: 5% (plus Paypal or Stripe's 2,9% + 0,30$ per sale)
Included: All features. Unlimited products to sell. Unlimited revenue.
2. Payhip Plus
Price: 29$/month
Transaction Fee: 2% (plus PayPal or Stripe's 2,9% + 0,30$ per sale)
Included: All features. Unlimited products to sell. Unlimited revenue.
3. Payhip PRO
Price: 99$/month
Transcation Fee: 0% (PayPal or Stripe still takes 2,9% + 0,30 per sale)
Included: All features. Unlimited products to sell. Unlimited revenue.
As you can see, Payhip is totally free to use!
The only "bad" part is that Payhip takes 5% off your sales but that pretty much evens out more than well when you find out that you are entitled to the same features as everyone else.
(2.2)

Is Payhip Worth Paying For?
I don't pay for Payhip at the moment.
The reason behind this is very simple.
My business with writing E-books isn't a business that generates so much money that it would be worth it. The only reason I'd pay for Payhip right now, besides me loving the service, is if I made so much money on my business that I really needed to get the fees down.
But is the service still worth paying for?
I sure as hell think so!
It's a great service. They have every feature that you could possibly need to be able to sell your product whether it's digital or physical.
Payhip handle your payments for you and transfer the money to you immediately after purchase. They've built a platform where you can create your own store and share it with the world with just a button. They let you upload whatever digital file you may have and protect it for you. They let you handle all of your marketing, if you choose to do so, with an Easy-To-Use interface.
It's extremely hard not to love the service.
With that said, I'd still like there to be some more features.
I'd also want these new features to only be available to either PLUS or PRO depending on what type of features. After all, with all that they're currently doing for creators, I'd say that they truly deserve to get something back.
I do miss that you can't do much with the store itself. There's not many creative options as for design. I also miss having a landing page that you can connect with your store, in some way. I'd also want there to be an easier option for integrating your store onto your website in WordPress for example.
But, honestly…
Even if they're missing these small things it's still a great service and it's still probably the best free service ever created.
So far.
(3)

What Are Payhip's Features?
Okay, so, I've been talking a bit about the different features that Payhip offers already but I haven't gone into details yet.
I guess it's time for that now.
What are these features that I'm talking about and what features is it that every user of Payhip get access too?
Continue reading to find out!
(3.1) EU VAT

To help you even further on your path to success with your business Payhip has taken it upon themselves to report and pay EU VAT for you.
What Is EU VAT?
VAT is a tax on goods and services that's applied to every sale made in EU. It requires all sales of digital items in EU to pay VAT based on the location of the customer.
Payhip will take care of all the burden that comes with this and handle everything for readers based in the EU. You can choose whether you want to include or exclude VAT in your price and depending on what you choose the price will differ.
You also have the ability to add tax rates for each country where you're obliged to collect taxes from and you can choose to list all your physical locations of your store(s) if needed, and if you have one.
(3.2)

Digital Downloads
Optimizing Your Sales
Everything is designed to make it easy and instant so that you can focus on doing what you do best.
Creating your account, setting up your store, uploading your product, customizing your store, having a responsive, fast and secure checkout, delivering the product to your customer and getting paid while doing it.
That's service and that's Payhip!
Supercharging Your Sales
If your products hasn't already skyrocketed with the amazing checkout features offered by Payhip, don't worry. They have something stored for you that's even better.
With an entire marketing apartments features at your disposal, it's almost impossible not to find a way to boost your sales.
You get access to feature such as:
Creating coupons for your customers with discounts
Social discounts for sharing on social media to grow sales
Sync with services like Mailchimp to grow mailing lists
Reward your customers for sharing your products with affiliating
Offer Pay-What-You-Want pricing so customers can name their price
Cross-Selling to offer discounts on multiple products at the same time
Upgrade discounts to encourage customers to purchase other products
Referral system that allows customers to referr and receive discounts
Full Analytics Control
We can't forget the analytics when we talk about your products. You need a way to track how you're sales are doing, don't you?
If you don't want to use Facebook Pixel and Google Analytics to help you track your progress of your store and products, you can use Payhip to do it for you. That doesn't mean it's not already integrated and free to use of course.
With the analytics tool you get access to features such as:
Daily views that can be custom made and optimized to your needs
Daily sales that tracks total sales, views, orders and unique customers
Track progress for all your products or a specific product
Full sales breakdown
Top-10 Visitor Sources such as social media or your own link(s)
Track conversion, referers, visits and orders from Visitor Sources
Track views, started checkouts and completed checkouts for products
A full visit map to see where your customers are based
Safe And Secure Products
When selling digital products, you do want it to be as safe and secure as possible.
They already partnered with two of the most secure payment providers called Stripe and Paypal. But they clearly didn't feel that they were done there.
Payhip also offers features to help you protect your digital downloads. They offer you security by helping you protect your products when they're being sold.
Three features are offered:
1. PDF-stamping which stamps every page on your E-book with the buyers purchase details to prevent illegal sharing.
2. Limit downloads which allows you to set a number of allowed downloads of your product(s).
3. Software licenses in which Payhip can handle generation, storage and issuing keys to protect your software.
(3.3)

Digital Memberships
Recurring Revenue
Just like Twitch offers subscriptions for your fans, Payhip can offer you memberships for your customers or followers. This is a great way to build a new fanbase or continue building a current one.
Some features:
Sell multiple subscriptions with different pricing, intervals and more
Optimized checkout for fast conversion
Keep your members informed with files and content with updates
Accept payments and send content without coding skills
Creating Exclusive Content

Exclusive content is highly appreciated by followers.
To be able to continue having a great community you can use this feature to send private files or content to your members and decide if one or all plans should have access to it. You just have to upload the files or the content to Payhip.
The rest is done automatically.
Membership Features
Your subscribers, members or what you ever choose to call them, have complete access to their very own account where they can manage their own subscription.
Membership account features:
View billing history
Upgrade or downgrade from your plans
Full settings menu for passwords, email, name, card details etc
Cancel at any time if the wish to do so
Happy Memberships
Everything you and your members require to reach success together is available!
More membership features:
Manage members account to see billings and cancellations
Custom plans to charge members weekly, monthly or your own choice
Email notifications after succesful and failed invoices
Fully secured, protected and encrypted transactions
Free trials to encourage customers to try your service
Upload exclusive content for members to view in different formats
Embed membership system on your own website
Fully optimized and designed for mobile, tablet and desktop
(4)

Summary

I do think we have covered everything that is useful to know as a creator, or influencer, in order to fully analyze the potential of a new service, platform or marketplace to sell your products or memberships.

Payhip is the ultimate platform that offers a massive amount of features for free. There's close to no bad features at all and the pros really outnumber the cons.

As a creator, Payhip probably is the best place to at least start selling your products. There's really no harm in trying since it's totally free!

Are you a creator? Do you have a huge following already? Are you looking for a new service, platform or marketplace to sell your products?

Try Payhip – it's probably the best free platform to sell your digital content.

This is a promoted post due to the author being affiliated. The recommendation is to always read more than one review of products and services. This post includes affiliate links and clicking on these links takes you to the product(s) the affiliate promotes. If you decide to purchase these products the affiliate gets a commission. Thank you for supporting the website.
Categories
OTHER SERVICES
/
REVIEWS