5 PROVEN STEPS TO RESPONSIBLE GAMBLING
Today We Are Gonna Talk About 5 Proven Steps To Responsible Gambling!
Addiction, in all forms, are not easy to handle. That's why it's so important to practice responsible gambling.
Proven and good steps to make sure that you have a safe and happy time while gambling do exist. Gambling addiction, and addiction in regular, is not something that any human being deserves or wants to end up with. Unfortunately it happens, all too much and all too often. It's a nasty business and you have to be aware of this before you enter the business yourself.
I recommend everyone to read about gambling addiction, gambling problems and also the tools that is available to everyone to counter these problems with responsible gambling. Read about the organizations that daily tries to combat gambling addiction, such as Gamban, Spelpaus, Begambleaware, Gambling Therapy. You should also read the bookmakers solutions that they offer to help with responsible gambling.
At the end of this post you will find tools that are extremely helpful. If you ever feel that you have a problem, might have a problem, or sense that a problem can occur – stop gambling, contact a helpline and use the tools available.
Here Is 5 Quick, Easy, Smart and Proven Steps To Counter The Creation of Gambling Addiction
1. NEVER INVEST(SPEND) MORE MONEY THAN YOU CAN AFFORD TO LOSE!
It probably says itself, but yet we have the problem called gambling addiction around us. It's preventable by practicing responsible gambling but even when you do that there is still a chance to fall in the pit.
You simply cannot let yourself invest more money than you can afford to lose. It's a no-go zone. You are not allowed to do it.
The first step to shape a gambling addiction is to invest, bet or spend more money than your bank account allows you too. You need to set a budget directly, before you start with your investment.
If you have a budget of B per month, which is a lot for a beginner, to gamble with then you have to stick to that amount and not exceed it. Under no circumstances are you allowed to exceed that limit. You need to stay within your limits at all times.
You also need to be able to deal with losses. Losses will occur more than once and might even be the only thing you see from time to time. Ups and downs happens and therefore it's extremely important to know how to deal with losses. You can't always win, you won't always win and such you need to realize that losses are a common event in Sports Betting and Casino.
Your own finances needs to be a priority, not the amount you bet or invest at a bookmaker.
Set a limit, learn how to deal with losses and make it a routine. If you lose your bankroll, quit gambling for that month.
Responsible Gambling = always.
2. INVESTING SHOULD BE FUN
Yes, I am an advocator for having fun while making money. Sue me.
No, but if we think about it for a second, gambling should always be something that you consider as being fun before you start treating it as a business.
It's a fact. Gambling is something a lot of people consider as a hobby and that is totally fine and acceptable. Gambling is fun, for a lot of people including me, but it can also not be fun if it goes sideways.
Therefore, if you stop having fun, it's time to take a break. If you feel like your gambling habits makes you feel bad or if it makes you feel like you're not having fun anymore while doing it, take a break. It's a sign that something might not be what it used to be or that it's about to become a problem.
I started gambling as a hobby. It was fun, it was an unique adrenaline rush and it was some sort of a haven for myself where I had my fun without anyone disturbing me. Later, when I got extremely good at it and when I decided to treat it like a business and not a hobby, I continued having fun of course, but I also learned how to invest more responsibly.
I didn't know how to practice responsible gambling from the start. I thought that I could bet however I wanted and it almost always ended up in a disaster. Let's just say that I truly learned the hard way.
Bottom line. It doesn't matter if you're gambling or investing. It doesn't matter if you're having it as a hobby or as a business. It doesn't matter if you're a loser or a winner(in gambling).
If you're not having fun – stop doing it.
3. MONEY MANAGEMENT, BANKROLL MANAGEMENT, RISK MANAGEMENT
IF YOU HAVEN'T ALREADY – READ MY BOOK CALLED "MONEY MANAGEMENT & DREAM CATCHING" WHERE YOU WILL RECIEVE AN IN-DEPTH EXPLANATION OF EVERYTHING REGARDING MONEY MANAGEMENT AND HOW IT'S USEFUL!
My 3rd best solution to responsible gambling is to manage your bankroll.
You've already set a limit and a budget and you've learned how to deal with losses. You're also making sure you're having fun while doing it. So, what's next?
Bankroll Management, Money Management, Risk Management.
Don't get confused. They might have different names but they all mean the same. It's all about managing your bankroll, aka your funds, aka your investment.
When you're gambling or investing you always want to make sure that you maximize your winnings and minimize your losses. This can be done in different ways but if we use Sports Betting as a reference, a lot of bettors use The Unit System as a tool to calculate how much they are going to invest on each bet.
Different tools exists, such as Kelly Criteria and Flat betting but for a beginner, The Unit System is definitely the best and easiest tool to use.
To calculate your bankroll into units you simply divide the total bankroll by 100. Each unit represents a percentage of your bankroll and it's these percentages that you use when you bet. Depending on how good each bet is, according to your evaluation, you bet accordingly.
If you had $100 in your bankroll it would look like this (100 / 100 = 1). The 1 here represents $1 and therefore 1% of your total bankroll.
Instead of throwing $50 on one bet, $150 on one bet and $300 on one bet, the bettor can use a percentage system instead. This system helps with blindness, to calculate the exact amount to wager on each bet and it helps you to practice responsible gambling.
If you want to read a more in-depth guide on about units, please read my guide called "3 EASY STEPS TO USE THE UNIT SYSTEM"
4. THE MIND, THE PROBLEMS AND HOW TO COUNTER IT
I'd like to talk a little bit more about the probles with losses. It's important to know that you know how to deal with losses and how to counter them.
I've been in this business for many years and it really took me a while to learn how to deal with losses. I can't say that losses doesn't get to me these days, they still do, but I've managed to find a way through them and more importantly – beyond them.
I learned that I needed to see money for what it is, and was, and not for what it does too, and with me. I needed to have a constant emotionless relationship towards money. I also needed to be have responsible gambling in my mind at all times. I needed to master that system to the fullest in order to unleash my power.
You can set every possible rule, limit, budget, bankroll system you want but if you can't counter the problems that occur, you simply shouldn't pursue gambling or investing.
All that matters, if we talk Sports Betting and Investing, is that you win on the "bets" that generates the most positive return. You can have a ROI(Return of Investment) of 5% with a win rate(the number of times a bet is a win compared to your total bets) of 45% which means that of all the bets you've placed, you have lost more bets than you have won. Yet, you're in profit.
It's important as hell to deal with losses and it's important to have a constant emotionless relationship towards money.
We're all different and handle losses differently but what I myself have found useful is to take a break if it gets out of hand. I've lost 30 bets in a day and I've won 30 bets in a day. It doesn't matter for me if I lose or I win much, I always take a break to cool down. It's important to reset your mind, to get all the adrenaline away from you and to release all your emotions whether they're positive or negative.
Learn how to deal with losses. It will save you. Take a break if you win much or lose much. Do other things. Talk with friends and family, enjoy a walk, let your emotions aside and stay healthy in your mind a body.
5. DARE ASK FOR HELP
This is probably the most important part.
Ask for help and dare to do it.
It doesn't matter how well or bad you're doing, always ask for help if you need it. The same goes for gambling and investing. If you feel that you simply can't practice responsible gambling then you should seek help for your problems.
You're not alone with your problems or issues. There are thousands of others having the same issues, same problems and same thoughts and feelings. Many of these people don't even know what responsible gambling is and naturally they don't practice it.
If you ever in need of help, reach out to helplines and reach out to friends and family. Try avoiding to deal with the pain you feel by yourself. It's hard to talk about the gambling problems that can occur but it's extremely vital and helpful for you if you try to do it.
There is no shame. You are not dumb, you are not a problem and you can't help it. Addiction is a disease and not something that is imaginary. Diseases are treated with treatments and therefore you should try to seek help if you ever feel that you already have a problem, or are developing one.
I'm going to list a few helpful tools and helplines below that can help you to counter gambling addiction and that practice responsible gambling.
BEGAMBLEAWARE is an independent foundation operated and funded by the Gamble Aware charity. Their mission is to keep people safe from gambling and harms. It's a useful tool if you ever need help to find support and information regarding gambling addiction. They also provied facts and other information about responsible gambling and how to recognize if you have a gambling problem already.
Website: www.begambleaware.org
Price: FREE
Rating:
(5 / 5)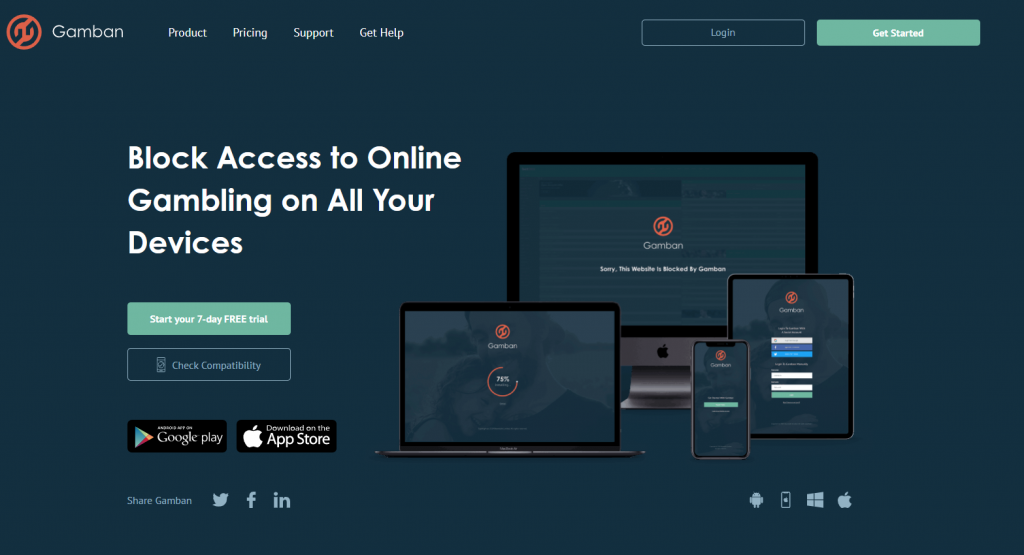 GAMBAN is an extremely helpful tool if you feel that you're gambling has already gotten out of hand, or are about too. It helps you take control over your impulses and actions and blocks you from almost every gambling website that exists. On top of that they also block users from all types of online gambling including Esports, Skingambling, Cryptocurrencies, Sportbooks and trading sites. It works on all devices such as tablets, mobile phones and computers.
Website: www.gamban.com
Pricing: 7 day free trial then from £2.49 per month
Rating:
(5 / 5)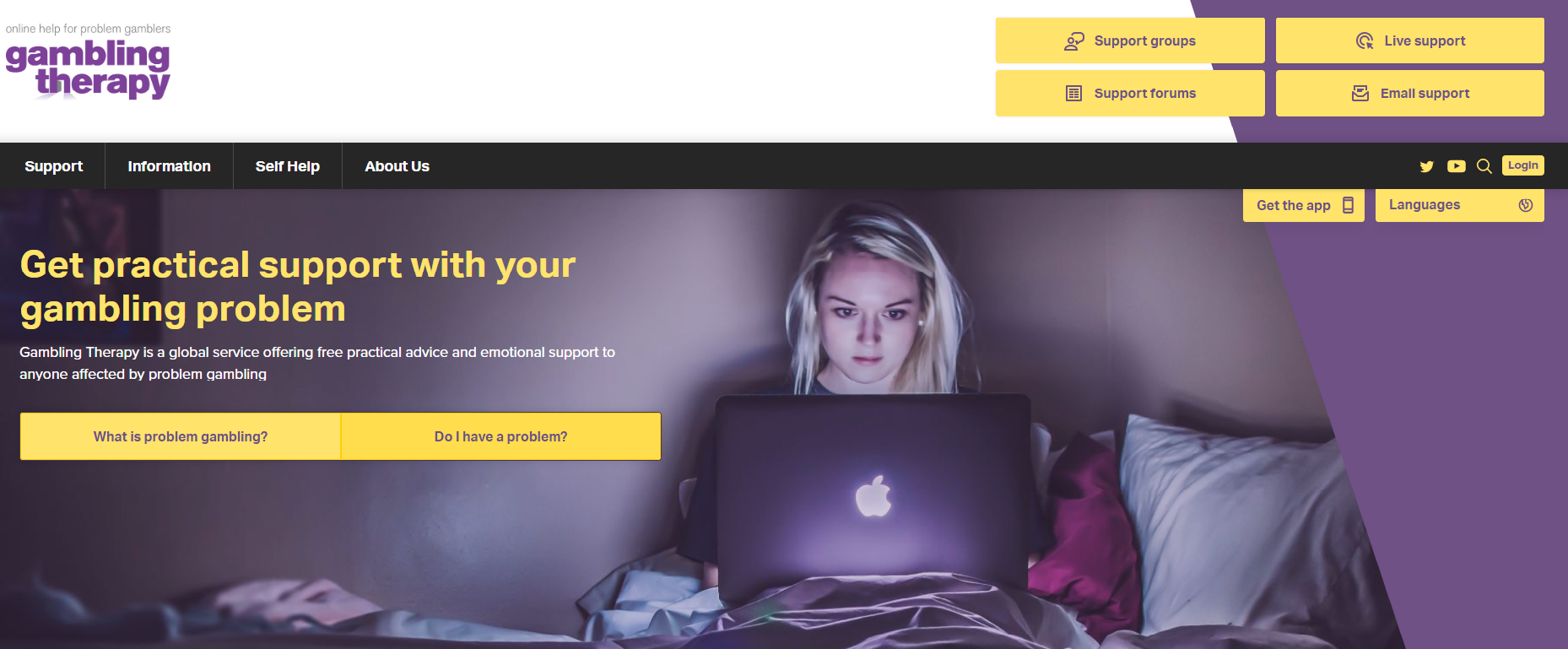 GAMBLINGTHERAPY is a charity from England that does its best to help people with Gambling Addiction by offering support through Live Support, Online Gambling Therapy Forums and E-mail support. With practical advices, emotional support and tools for responsible gambling they aim to be the help you need when you have a gambling problem.
Website: www.gamblingtherapy.org
Pricing: FREE
Rating:
(4 / 5)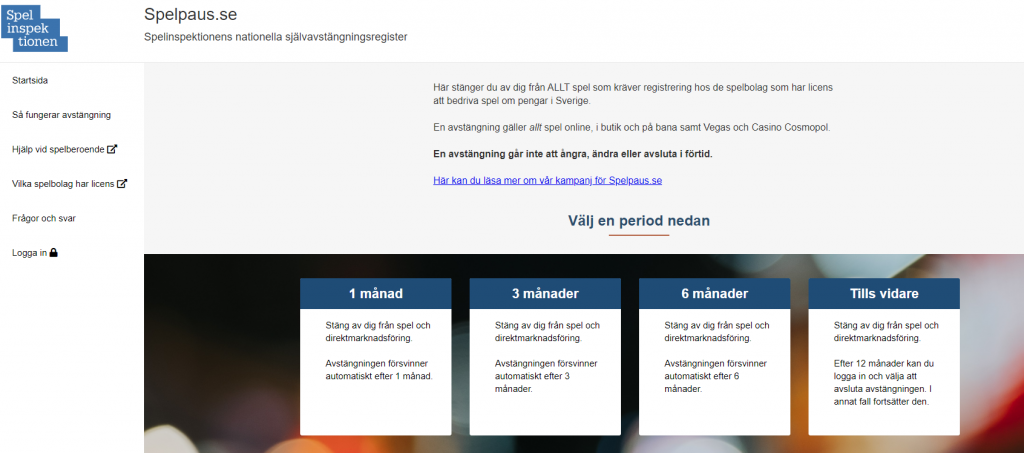 SPELPAUS is a Swedish solution to gambling addiction and responsible gambling It was invented by Spelinspektionen which is an authority run by the government. The tool became available at the same time as Sweden introduced the Swedish Gambling License to the bookmakers. Now, whenever a player decides gambling has become a problem, the individual can visit SPELPAUS, log in, and ban himself from 1 – 12 months. The ban applies immediately to every bookmaker that has a license to operate towards the Swedish market.
An extremely useful tool. Unfortunately it only exists for Swedish citizens. Luckily enough Gamban exists for the rest of the world.
Website: www.spelpaus.se
Pricing: FREE
Rating:
(5 / 5)
That was that!
I hope you enjoyed this quick guide to responsible gambling and also learned something from it!
Stay tuned for more information regarding investing and all that surrounds it!
Categories
GUIDES